It's a beautiful day in the Green Mountains of Vermont, and Henry Jenkins has sneaked out of the house to enjoy it.  It's the beginning of hunting season so the boy is not alone in the woods, but he's keeping as far from other people as possible.  When he sees Alice de Clare, a friend of his father's and a guest at a nearby lodge, walking ahead of him he decides to follow her as silently as possible.
Henry comes to a log, which looks as if it would be great place to hide, but when he peers inside he sees a bundle of guns.  He's retreating when Alice finds him, and when she sees the guns she tells him they need to return to the hunting lodge as quickly as possible.  But before she can move, an arrow flies through the air, killing her and causing Henry to run.
Mercy Carr, a former Army MP, has returned from her tour in Afghanistan, still recovering from the trauma of losing her fiancé there.  She has brought his dog, a Belgian shephard named Elvis, home with her, and the two of them are making a home for themselves in the mountains where she grew up.  Mercy and several members of her family are practicing bow and arrow shooting when Elvis bounds into the woods to retrieve an errant arrow and doesn't return.
When Mercy follows him, she encounters Daniel Feinberg and his friends who are staying at his nearby lodge for the weekend.  Mercy continues to track Elvis and discovers him next to Alice's body.

According to Katharine Montgomery, another of the guests, the impetus for the weekend hunting party was to give Daniel an opportunity to meet Alice and possibly hire her to renovate a nearby inn.  Katharine and her husband Blair were going to be partners with him and another couple who also are his guests.  Now, Katharine tells Mercy, "that will never happen."  And Mercy wonders whether the two couples are more regretful over Alice's death or the end of a possible partnership with Daniel.
Mercy and Troy Warner, a Vermont game warden, are dismissive of the attempts the local police make in their search of the nearby woods.  They decide to search the area with their dogs, Elvis and Susie Bear, and come upon Henry, hiding in a shed.  Mercy recognizes him at once as a friend's son and knows that he is autistic.  Henry turns out to be the only witness to Alice's death, but he is almost non-verbal, obviously frightened and cold, and is only persuaded to accompany Mercy and Troy back to the Feinberg residence because he has taken an immediate liking to their dogs.  And then it becomes obvious to all that Henry is the only one who can identify the killer.
Blind Search is the second mystery in the Mercy Carr series, and it's inspired by the true story of an autistic boy lost in the wilderness of Vermont.  Paula Munier has crafted that into a thrilling story.
You can read more about Paula Munier at this website.
Check out the complete Marilyn's Mystery Reads at her website.  In addition to book review posts, there are sections featuring Golden Oldies, Past Masters and Mistresses, and an About Marilyn column that features her opinions about everything to do with mystery novels.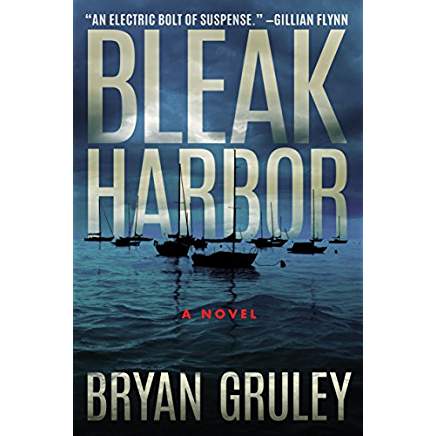 What's in a name, anyway?  As Shakespeare wrote in Romeo and Juliet, "That which we call a rose by any other name would smell as sweet."  Still, names convey a lot, and some are less pleasing than others.  So what would you expect of a family whose last name is Bleak?
Bleak Harbor, Michigan was founded generations ago by Jacob Bleak.  Bleak had established a lumber mill, a newspaper, a shipping port, and steelworks across the river in Indiana, but all of that is gone now except for the newspaper and the millions of dollars those businesses earned.  This money is controlled now by the family's matriarch, Serenity Bleak; she is willing to give the town her entire estate, having disinherited her only descendants years earlier, with one condition:  she wants every part of the township renamed for her.
Not surprisingly, Serenity is estranged from her daughter and son, and ordinarily her daughter Carey Bleak Peters is fine with that.  Now, however, Carey is facing the worst moment of her life.  Her autistic son, Danny, is missing.  A ransom note demanding five million dollars for his safe return has been emailed to her, and she may be forced to ask her mother for the money to save him.
Carey's life was spinning out of control even before this.  She had taken a job in Chicago, a major commute home three times a week but something that was necessary to support her family.  Her husband Pete's legal marijuana shop is close to bankruptcy, and that problem is in addition to his increasingly high consumption of alcohol.  Carey has made a major blunder in her own life, sleeping with her boss, Randall Pressman, one night.  After she continues to refuse his demands for another night with him, Pressman demotes her and threatens to move her to another of his offices even farther from Bleak Harbor.
However, Carey has a plan of her own, both for revenge against Randall and to get out of her current life, leaving everything and everyone behind except Danny.  She has obtained documents that prove that Pressman Logistics is transporting illegal cargo across state lines, and she's demanding her own ransom–ten million dollars from Pressman to destroy the incriminating papers or she hands them over to the feds.
And then she comes home to celebrate Danny's 16th birthday to find that he's missing.  Pete, who was supposed to pick up his stepson that afternoon at the dock so they could go fishing, instead had stopped at his usual afternoon hangout, Boz's Bayfront Bar and Grill, for a quick drink or two.  By the time Pete got to the dock, Danny was nowhere to be seen.
Bleak Harbor is a taut thriller about a family where everyone, no exceptions, has secrets they don't want to disclose.  You can feel Carey's pain at her past and current mistakes and her overwhelming love for her son, although she acknowledges to herself that there are parts to him that she will never understand.  Bryan Gruley's characters are sympathetic even when you realize that their every step is a misstep and that their secrets are making a terrifying situation worse.
You can read about Bryan Gruley at this website.
Check out the complete Marilyn's Mystery Reads at her website.  In addition to book review posts, there are sections featuring Golden Oldies, Past Masters and Mistresses, and an About Marilyn column that features her opinions about everything to do with mystery novels.