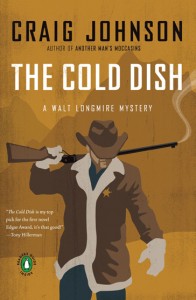 "Revenge is a dish best served cold" is attributed to three different authors, according to Wikipedia.  And although the readers of Craig Johnson's novel don't know who among the cast of characters has been waiting for revenge, or for how long, there's no doubt that the murderer believes it's worth the wait.
The Cold Dish, first in a series that began in 2005, just popped out at me from my library's shelves a couple of weeks ago.  I hadn't read anything about this book or the ones that follow it, but when I read the flap about a sheriff in a remote Wyoming town solving the shootings of two teenagers who had been convicted of raping a young Indian girl with fetal alcohol syndrome, it reminded me of a real case that took place not too long ago.  Also, one of the reasons I read so many mysteries is because they take me to locations I've never visited, and small-town Wyoming fits that bill.
Sheriff Walt Longmire is a 50-ish widower who still mourning his wife three years after her death.  He can't seem to move ahead in his personal life, living in a log cabin with minimal walls, minimal plumbing, and unpacked boxes in every room.  His only child lives two thousand miles away, and he times his calls to her when he's sure she won't be home or available at work.  In his professional life, however, Longmire is capable and trusted; he's been sheriff of this county for nearly twenty years.
The case involves the murder of one of the four boys who was convicted of brutally raping the Melissa Little Bird two years before the story opens. The four were given extremely short sentences, and many of the townspeople, as well as the girl's family on the nearby reservation, believe that justice wasn't served.  The ringleader and least repentant of the four is murdered first, and a second murder soon follows.  Although Longmire is totally unsympathetic to the rapists, he does want to uphold the law and stop the murderer before the other boys become victims as well.
The sheriff is also dealing with some issues in his personal life.  After walling his emotions and desires away since his wife's death, he finds he's now attracted to two women.  One is a recently hired deputy who is in an unhappy marriage; the other is a well-to-do woman who has returned to the county after years back east.  Longmore feels himself awkward and rusty in the romance department, but his interest in the women shows a breach in the wall of solitude he has constructed for himself since becoming a widower.
I plan to read all the remaining books in Johnson's series–Walter Longmire is an interesting man whose career I want to follow.
You can also learn more at Craig Johnson's web site.