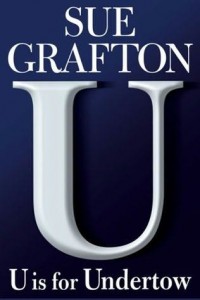 Sue Grafton doesn't need my review of her latest mystery to propel her to the top of the best-sellers' list.  She's been on top of the heap since her first mystery, A Is For Alibi, was published in 1982.  But it's nice to report that this novel is as appealing as any of her others and gives us a deeper look into Kinsey than we have glimpsed before.
U Is For Undertow is somewhat of a departure from Grafton's previous novels.  This is as much a book about families and relationships as it is a mystery. Those who have followed Kinsey's backstory know that her parents were killed in a car crash when Kinsey was five, that she was raised by one of her mother's sisters, and that she had no contact with and wasn't even aware that she had other living relatives until midway through the series.  At that point she's contacted by cousins who've known about her and now want to meet her.  Over the following novels she has kept this family at arms' length, rebuffing their attempts to include her in their circle.
Even though Kinsey doesn't age at the same rate as the rest of us do (she's apparently going to remain in her thirties throughout the series), her maturity has increased as the series has moved on, and at this point she is wavering between her loyalty to her late aunt and a pull toward finding out the complete story of her mother's expulsion by her family.  This backstory of familial relationships connects with several others in the novel.
Kinsey is approached by Michael Sutton, a young man who believes that more than twenty years ago he was witness to the burial of a little girl who was kidnapped. His story is nearly unbelievable, but Kinsey decides to work for him for a day to see what she can discover.  Michael, it turns out, has a bizarre history that includes repressed memories of sexual abuse by his parents, later proven false, and estrangement from his sister and brothers.  His history is connected to that of two other men in the fictional town of Santa Teresa where Kinsey lives.
All of these families–Kinsey's, Michael's, and the two men who now are respectable citizens of Santa Teresa–have skeletons, both metaphorical and literal, in their backgrounds.  The more deeply Kinsey delves into Michael's family background, the more she's pulled into her own.  And the two men have their own family issues that must be explored before the book is over.
Undertow shows us a Kinsey who is more introspective than the one we've known before.  She has come to the understanding that seeing things in black and white is not always seeing them clearly, that many shades of gray show up in every family relationship.  Even though she's not getting older, she is getting wiser.
You can also learn more at Sue Grafton's web site.