Hank Worth has been sheriff of Branson, Missouri, for less than a year, but it's re-election time in the county.  That's because Hank was appointed to the job, not elected, when his predecessor gave up the position with less than a year to go in his term to become a state senator.  And if there's anything that Hank dislikes more than criminals in his county it's running for office.
He almost welcomes the phone call from Vern Miles, a landowner who calls Hank to ask him to view the trees on the Miles' property that have been stripped of bark nearly to the top of their trunks.  Vern tells the sheriff that it has recently been discovered that there's big money in the outermost layer of the slippery elm; it's used to cure a variety of ailments.  (Seriously.  I looked it up on Google, and the bark of the Ulmus rubra is used as an herbal remedy for fevers, wounds, and sore throats.)  It's bringing in much needed revenue, Vern informs Hank, but stripping the trees so high will likely result in the trees' death, and he wants whoever did this caught.
So, Hank thinks, "This was excellent.  A nice little crime to investigate, but with no trauma, no violence."  It turns out that nothing could be further from the truth.
The Miles' property touches the land that belongs to the Kinney clan, and both families have been feuding for at least three generations.  The Kinneys are the most powerful family in the county, for reasons Hank is finding hard to understand.  His barber, Stan, finally comes the closest to putting it in words:  "They own people's minds….It's better just to move around with caution and respect when it comes to them."  And when Hank makes a return visit to the woods and finds even more bare trees, this time on the Kinney property, he knows he's going to have to face Jasper Kinney sooner rather than later.
At the same time, Hank is trying to keep his job as sheriff despite his distaste for the political machinations necessary to run a campaign.  His initial meeting with Darcy Blakely, his campaign manager, does not go well.  Added to that is the fact that his competition, Gerald Tucker, has been a long-time deputy in the sheriff's department, while Hank is still an outsider by Missouri standards.  Plus, in Hank's opinion, Gerald is much too involved with Henry Gallagher, the area's most successful businessman.  Hank is pretty sure Henry is involved in arson, extortion, and insurance fraud, even though he's been unable to prove it.  But Henry's pockets are deep, and he definitely could sway voters toward Gerald.
Then a teenage undocumented worker is found hiding in the woods, and there's an unidentified corpse there as well.  So Hank's "nice little crime" is no longer nice or little.
Claire Booth's second novel is an excellent follow-up to The Branson Beauty, which I blogged about in July 2016.  The characters, including Hank, his physician wife, and his African-American deputy, make the story real and compelling.  Another Man's Ground is well worth another visit to Branson, Missouri.
You can read more about Claire Booth at this website.
Check out the complete Marilyn's Mystery Reads at her website.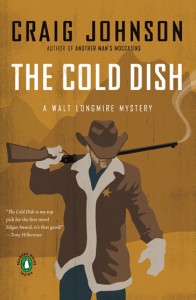 "Revenge is a dish best served cold" is attributed to three different authors, according to Wikipedia.  And although the readers of Craig Johnson's novel don't know who among the cast of characters has been waiting for revenge, or for how long, there's no doubt that the murderer believes it's worth the wait.
The Cold Dish, first in a series that began in 2005, just popped out at me from my library's shelves a couple of weeks ago.  I hadn't read anything about this book or the ones that follow it, but when I read the flap about a sheriff in a remote Wyoming town solving the shootings of two teenagers who had been convicted of raping a young Indian girl with fetal alcohol syndrome, it reminded me of a real case that took place not too long ago.  Also, one of the reasons I read so many mysteries is because they take me to locations I've never visited, and small-town Wyoming fits that bill.
Sheriff Walt Longmire is a 50-ish widower who still mourning his wife three years after her death.  He can't seem to move ahead in his personal life, living in a log cabin with minimal walls, minimal plumbing, and unpacked boxes in every room.  His only child lives two thousand miles away, and he times his calls to her when he's sure she won't be home or available at work.  In his professional life, however, Longmire is capable and trusted; he's been sheriff of this county for nearly twenty years.
The case involves the murder of one of the four boys who was convicted of brutally raping the Melissa Little Bird two years before the story opens. The four were given extremely short sentences, and many of the townspeople, as well as the girl's family on the nearby reservation, believe that justice wasn't served.  The ringleader and least repentant of the four is murdered first, and a second murder soon follows.  Although Longmire is totally unsympathetic to the rapists, he does want to uphold the law and stop the murderer before the other boys become victims as well.
The sheriff is also dealing with some issues in his personal life.  After walling his emotions and desires away since his wife's death, he finds he's now attracted to two women.  One is a recently hired deputy who is in an unhappy marriage; the other is a well-to-do woman who has returned to the county after years back east.  Longmore feels himself awkward and rusty in the romance department, but his interest in the women shows a breach in the wall of solitude he has constructed for himself since becoming a widower.
I plan to read all the remaining books in Johnson's series–Walter Longmire is an interesting man whose career I want to follow.
You can also learn more at Craig Johnson's web site.