Book Author: Craig Johnson
It's always a delight for me when I check Craig Johnson's web site and find that he's written a new Walt Longmire mystery.  His latest one, A Serpent's Tooth, is a wonderful addition to the series.
Walt is the sheriff of rural Absaroka County, Wyoming.  Attending the funeral of one of its citizens, Walt gets into a conversation with Barbara Thomas.  The subject is angels, and Barbara tells Walt how angels have been coming to her house and doing all the minor repairs and clean-ups that make home owning difficult for a widow of advancing years.  They have cleaned her gutters, fixed the door on her porch, and various other small jobs.   They don't ask for money, but Barbara leaves a list of jobs for them and a plate of food, and pretty soon the repair is done and the food is gone.
Naturally, Walt doesn't believe in home-repair angels, and when he and his deputy Victoria Moretti drive out to Barbara's home they find a teenage boy repairing the trap under the kitchen sink.  When the boy hears Walt's greeting, he bolts from the house and Walt and Vic are unable to catch him.  Walt tries to follow up with the local high school and social services department, but no one has heard of this boy.
When Walt and Vic return to search the outbuildings around Barbara's house, they find evidence of someone living in the small dilapidated pump house–a cot, a blanket, and an 1889 copy of the Book of Mormon.  And when Walt finally catches up with the boy, whose name is Cord, he finds him to be half-starved and nearly totally unaware of many of the aspects of modern living.
Thus begins the sheriff's involvement with the Apostolic Church of the Lamb of God, a rogue offshoot of the Church of Jesus Christ of Latter-Day Saints.  Several branches of this church have been established in the rural west, and one has set down roots in the mountains of Walt's county.  The boy is a runaway from this group.  Apparently his mother was looking for him a few weeks earlier in South Dakota, but when that county's sheriff went to the address she had given him to tell her her son was found, no one there would admit knowing the mother or the son.  And the South Dakota group is the same Apostolic Church that is in Walt's county.
In addition to Cord, another mysterious stranger has appeared in town, the self-proclaimed Orrin Porter Rockwell, Danite, Man of God, Son of Thunder.  The only problem is that the real Orrin Porter Rockwell was born in 1813.  The 21st-century Orrin proclaims himself Cord's bodyguard, and the two of them together are almost too much for the law in Absaroka County.
Walt Longmire is a fabulous character, a lawman who tempers justice with mercy and understanding.  He is a widower, and his romantic relationship with his deputy Vic, given the difference in their ages and backgrounds, is a problem for him but not for her.  His relationship with his only child, Cady, who is married to Vic's brother, is also difficult, and the upcoming birth of Cady's first child is filling Walt with both joy and trepidation.
Craig Johnson is a terrific writer who knows how to make all of his characters alive.  You can read more about him at his web site.
Check out the complete Marilyn's Reads blog at her web site.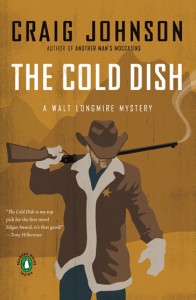 "Revenge is a dish best served cold" is attributed to three different authors, according to Wikipedia.  And although the readers of Craig Johnson's novel don't know who among the cast of characters has been waiting for revenge, or for how long, there's no doubt that the murderer believes it's worth the wait.
The Cold Dish, first in a series that began in 2005, just popped out at me from my library's shelves a couple of weeks ago.  I hadn't read anything about this book or the ones that follow it, but when I read the flap about a sheriff in a remote Wyoming town solving the shootings of two teenagers who had been convicted of raping a young Indian girl with fetal alcohol syndrome, it reminded me of a real case that took place not too long ago.  Also, one of the reasons I read so many mysteries is because they take me to locations I've never visited, and small-town Wyoming fits that bill.
Sheriff Walt Longmire is a 50-ish widower who still mourning his wife three years after her death.  He can't seem to move ahead in his personal life, living in a log cabin with minimal walls, minimal plumbing, and unpacked boxes in every room.  His only child lives two thousand miles away, and he times his calls to her when he's sure she won't be home or available at work.  In his professional life, however, Longmire is capable and trusted; he's been sheriff of this county for nearly twenty years.
The case involves the murder of one of the four boys who was convicted of brutally raping the Melissa Little Bird two years before the story opens. The four were given extremely short sentences, and many of the townspeople, as well as the girl's family on the nearby reservation, believe that justice wasn't served.  The ringleader and least repentant of the four is murdered first, and a second murder soon follows.  Although Longmire is totally unsympathetic to the rapists, he does want to uphold the law and stop the murderer before the other boys become victims as well.
The sheriff is also dealing with some issues in his personal life.  After walling his emotions and desires away since his wife's death, he finds he's now attracted to two women.  One is a recently hired deputy who is in an unhappy marriage; the other is a well-to-do woman who has returned to the county after years back east.  Longmore feels himself awkward and rusty in the romance department, but his interest in the women shows a breach in the wall of solitude he has constructed for himself since becoming a widower.
I plan to read all the remaining books in Johnson's series–Walter Longmire is an interesting man whose career I want to follow.
You can also learn more at Craig Johnson's web site.